We have a range of boats to meet different needs. Learn more about each vessel in the Clare Island Ferry fleet below: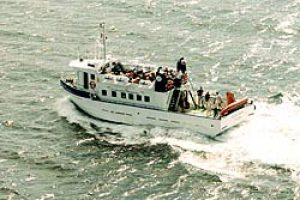 The Pirate Queen, is named after the infamous 16th century pirate queen, Grace O' Malley (Granuaile). She lived in a castle by the harbour on Clare Island during the course of her life as a " chief commander and director of thieves and murderers at sea". The pirate flag flies from the ferry in her honour.
The "Pirate Queen", which is the most modern ferry operating to Clare Island and Inisturk, is registered with the Department of the Marine and Failte Ireland and has a certificate for 96 passengers and 4 crew members. Passengers may sit inside the heated lounge area, or sit on the upper sun deck and enjoy the panoramic view of the Clew Bay coastline.
The O'Grady's also operate a smaller ferry boat, the "Very Likely", which caters for 12 passengers and 2 crew.
This boat may be chartered for small groups for sightseeing trips around Clare Island or trips to other islands, such as Inishturk or Achill.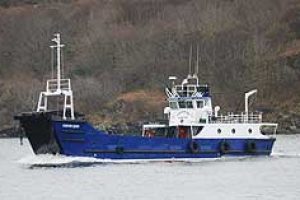 The "Clew Bay Queen" is probably the best known of the Clare Island Ferry fleet. It is the largest ferry operating to Clare Island and Inisturk and has a certificate to carry 96 passengers during summer. She also operates a cargo service from Roonagh to Clare Island and Inisturk twice a week, year round.
The cruise from Roonagh Quay (west of Louisburgh) to Clare Island takes just 15 minutes.
The journey gives you enough time to view and photograph a most spectacular coastline which includes Achill Island, the Nephin mountain range, the islands of Clew Bay, Croagh Patrick (Ireland's famous pilgrimage mountain) and Inishturk.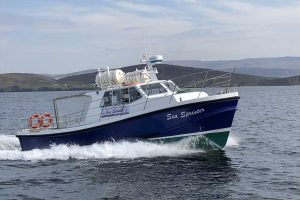 The "Sea Sprinter" is one of the fastest passenger vessels operating to Clare Island. She can operate at speeds of up to 22 kts and can carry a max of 35 passengers. She travels from Roonagh pier to Clare Island in just 9 minutes. She operates daily service and can be chartered for special sailing.